Towards an Insight-Driven Organization with Corporate Smart Insights
The success of knowledge-based AI systems as a productive and economic system in a company depends on their availability and, in particular, on the reuse of digitally curated, high-quality knowledge. A variety of information systems, knowledge management solutions and knowledge bases are available to build on. This wealth of knowledge needs to be raised through "digital curating technologies" and used in AI-supported business applications and knowledge management, not each time by new ones through very complex analysis of the "raw database", but with continuously learned knowledge and insights.
These insights and knowledge gained through data analysis and knowledge extraction, so-called "Corporate Smart Insights" (CSI), can be semantically curated as new knowledge artifacts in enterprise knowledge graphs and reused many times as valuable enterprise knowledge for AI-supported decisions and actions in the enterprise. The curated AI knowledge contributes significantly to an increase in the functional quality, data efficiency, plausibility and security of AI-supported functions in operational information systems and business processes. This enables the technological innovation towards an "Insight Driven Organisation" (IDO), which is not only data-driven, but also dynamically learns, shares and makes usable knowledge in the form of knowledge and insights, the so-called "Corporate Smart Insights".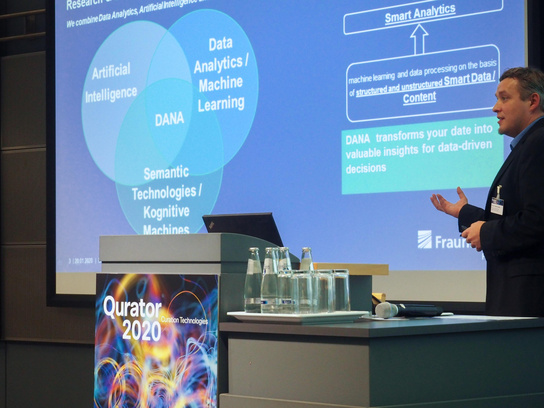 Prof. Dr. Adrian Paschke
Prof. Dr. Adrian Paschke has headed the Corporate Semantic Web Group at Freie Universität Berlin and the Data Analytics Center (DANA) at the Fraunhofer Institute for Open Communication Systems (FOKUS) since 2008. He has actively contributed to the standardization of semantic technologies in W3C, OMG, OASIS, RuleML, EPTS and organized primary conferences like RuleML, DEBS, SWAT4LS, iSemantics, Pragmatic Web.
With more than 150 scientific publications he has made a number of substantial contributions and actively contributes to the Corporate Semantic Web Community formation with e.g. the organization of the Berlin Semantic Web Meetups.