Semantic AI - How Knowledge Graphs can enable powerful AI Solutions!
In recent years the topic of Artificial Intelligence (AI) has become dominant as a technology trend and is influencing almost every business. AI should not be reduced to 'yet another new technology', but should be discussed on an organizational, legal, and ethical layer.

Many organizations are just beginning their AI journey. The cost saving opportunities are equalized by huge investments, but it's not about costs only: AI is a main driver for innovation and growth and gamechanging applications can be found in all industries.
Semantic AI is an approach that comes with technical and organizational advantages. It's more than 'another machine learning algorithm'. It's rather an AI strategy based on technical and organisational measures, which get implemented along the whole data lifecycle.
It provides a foundation for an enterprise-wide AI rollout including:
Data Quality
Data-as-a-Service
No black-box (explainableAI)
Hybrid approach (symbolic & statistical)
Structured data meets text
Towards self optimizing machine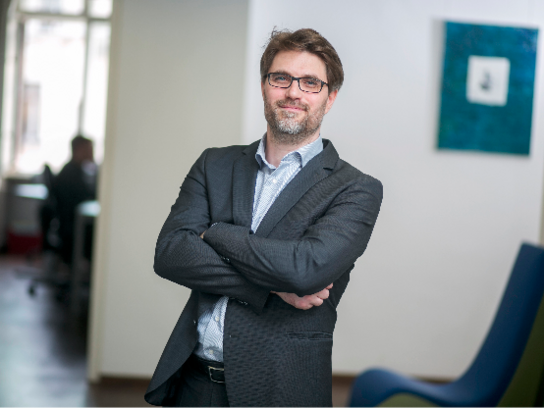 Martin Kaltenböck
Martin Kaltenböck (M) studied communication, psychology and marketing at the University of Vienna. He is co-founder and managing partner of the Semantic Web Company and as CFO responsible for financial, legal and organisational issues. Furthermore he leads and works in several national and international research, industry and government projects - mainly in the areas of project management, requirements engineering and communication & community activities.
He is tutor and publishes in the fields of semantic data-, information & knowledge management, Linked (Open) Data as well as Open (Government) Data and the social semantic web. He is lecturer at national and international conferences and business events in the mentioned topics.
Martin is Certified Management Consultant since 2006, member of the Executive Board of the Austrian Chapter of the Open Knowledge Foundation (OKFN) as well as Member of the Advisory Council of the Open Knowledge (Foundation, UK) and invited expert of the governmental Cooperation OGD Austria. He is working as invited expert of W3C and is member of the Steering Board of the European Data Forum that he chaired in 2014. Furthermore Martin is Member of the permanent advisory board of SEMANTiCS conference series and Board Member of the ODI (Open Data Institute) Node Vienna.