Hier finden Sie alle wichtigen Informationen zur Teilnahme an der Konferenz: Hinweise zum Datenschutz, Links zu den einzelnen Zoom-Sessions, ein Briefing für die Teilnahme per Zoom sowie die Links zu den Demo-Sessions der Konferenz (siehe unten).
Here you will find all the important information on how to participate in the conference: privacy notices, links to the individual Zoom sessions, a briefing on how to participate via Zoom, and links to the conference demo sessions (see below).
Mit Ihrer Teilnahme stimmen Sie der der Datenschutzverordnung von Zoom zu.
By participating, you agree to Zoom's Privacy Statement.
Zoom-Sessions
Monday, February 8th, 17:00
Warming Up*

Tuesday, February 9th, 10:00 - 12:00
Opening Session

Tuesday, February 9th, 15:00 - 16:30
Round Table GAIA-X

Wednesday, February 10th, 10:00 - 15:30
Workshop Media

Wednesday, February 10th, 16:00 - 18:30
Workshop Industry

Thursday, February 11th, 09:45 - 15:45
Scientific Workshop - Part 1

Thursday, February 11th, 10:00 - 12:00
Workshop Health

Thursday, February 11th, 13:00 - 18:00
Workshop Culture and Digital Transformation - Main Session
Working Group 1
Working Group 2
Working Group 3

Friday, February 12th, 09:45 - 15:00
Scientific Workshop - Part 2
Zoom-Briefing für Teilnehmer*innen
(English version below)
Wenn Sie den Zoom-Link aufgerufen haben zu der Session, landen Sie in einem Warteraum. Sie werden zum Beginn der Session reingelassen.
Bitte melden Sie sich bei Zoom mit ihrem vollen Namen an.
Als Teilnehmer*in sind Sie von Anfang an nicht zu sehen und nicht zu hören.
Sie möchten eine Frage stellen? Schreiben Sie diese in den Chat oder auf Zuruf des/der Moderator*in, schaltet Sie der "3pc-Tech-Support" frei.
Bitte beachten Sie vorab die Zoom-Einweisungen (s. unten).
Bitte beachten Sie, dass alle Sessions aufgezeichnet werden.
Es gibt einen "3pc-Tech-Support" für technische Fragen zu Zoom, den alle bei technischen Problemen im Chat anschreiben können.
Für weitere Nachgespräche nutzen Sie gerne unseren Talk-Room. Den Link dazu finden Sie gegen Ende der Session im Chat.
Wichtige Hinweise zu Zoom
Allgemeine Hinweise zum Event via Zoom
Bitte nur die aktuellste Zoom-Client-Version nutzen (aktuellste Version ist 5.4.9), der Client-Download für Windows oder Mac steht hier bereit:

https://zoom.us/download

. Alle Versionen ab 5.4.6 sind in Ordnung (im Hinblick auf die Funktion Breakout-Raum)
Ein technischer Zoom-Host (3pc) koordiniert im Hintergrund Start des Meetings, Einlass der Moderation, Referentinnen und Teilnehmerinnen
Die Teilnahme an einer Live-Session in Zoom
Für die Teilnahme am Zoom-Event, ausschließlich den Zoom-Client nutzen, der auf MacBook / Laptop / PC vorab installiert sein muss.
Für die Teilnahme, den offiziellen ZOOM-Link des Events aufrufen (30 Minuten vorab des Events). Den ZOOM-Link erhalten Sie vorab per Mail/Newsletter Ihren Namen vollständig ausschreiben mit Vor- und Nachnamen (alle).
Sie sehen nach dem Hinzufügen die anderen Teilnehmenden und eine Moderation führt Sie durch die Diskussion (Teilnehmer).
Es ist möglich, seinen Namen im Meeting zu ändern. Im eigenen Videobild, oben rechts unter dem Punkt "Mehr". Es gibt zwei Varianten für die Ansicht (zu finden in der oberen rechten Ecke des Zoom Meetings): Galerieansicht (alle Personen werden in kleinen Kacheln auf dem Bildschirm angezeigt) und Sprecheransicht (nur die Person, die spricht wird groß gezeigt).
Zoom umbenennen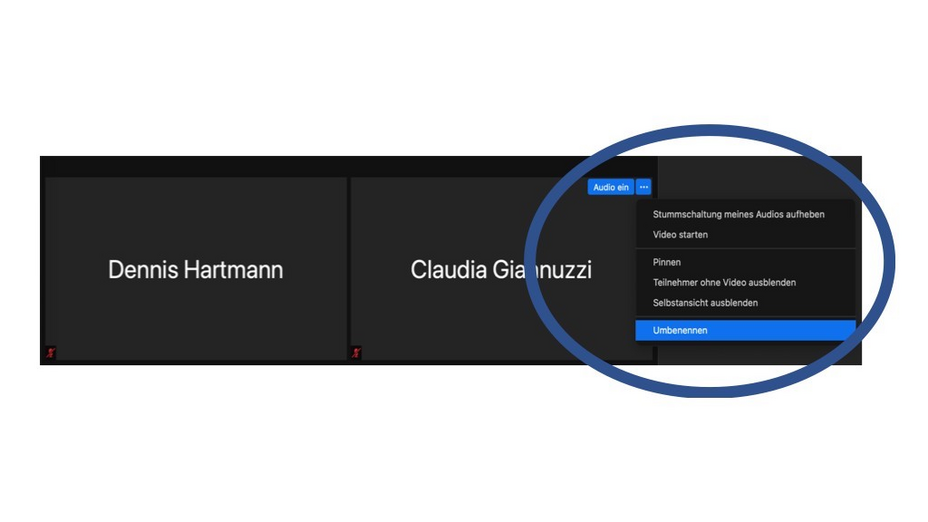 Zusätzliche Hinweise für den Chat (Moderatorinnen einer Live-Session in Zoom)
Bei Fragen oder Hinweisen an die Moderation, bitte den Zoom-Chat nutzen wählen Sie bei "Senden an" den Namen der Moderation aus. So können Sie direkt an die Moderation schreiben (TN)
Wenn alle Personen in der Zoom-Session den Chat-Kommentar sehen sollen, dann wählen Sie bei "Senden an" die Möglichkeit "Alle Diskussionsteilnehmer und Zuschauer" aus
Reaktionen mittels Emojis und Symbolen (Hand heben)
Teilnehmende können visuelle Reaktionen als Feedback mittels Emojis und Symbolen in ihrem Bild sichtbar machen:
- lautlos ihre Empfindung/Haltung/Abstimmung anzeigen
- aktiviert den Interaktionscharakter des Publikums
- Hand heben: bei mündlicher Anmerkung, ohne den Redefluss der Diskussion direkt auditiv zu unterbrechen
- Daumen hoch: Zustimmung, kann Entscheidungen beschleunigen
- Weitere Reaktionen verfügbar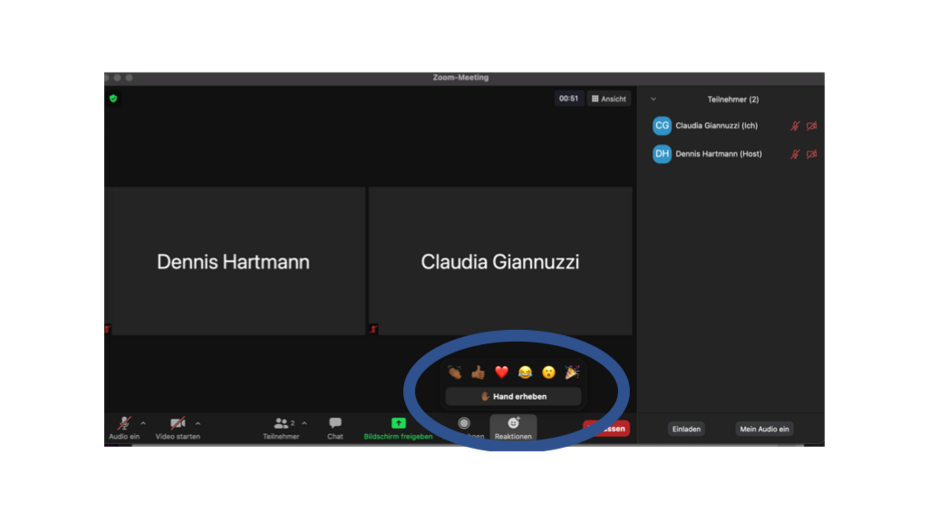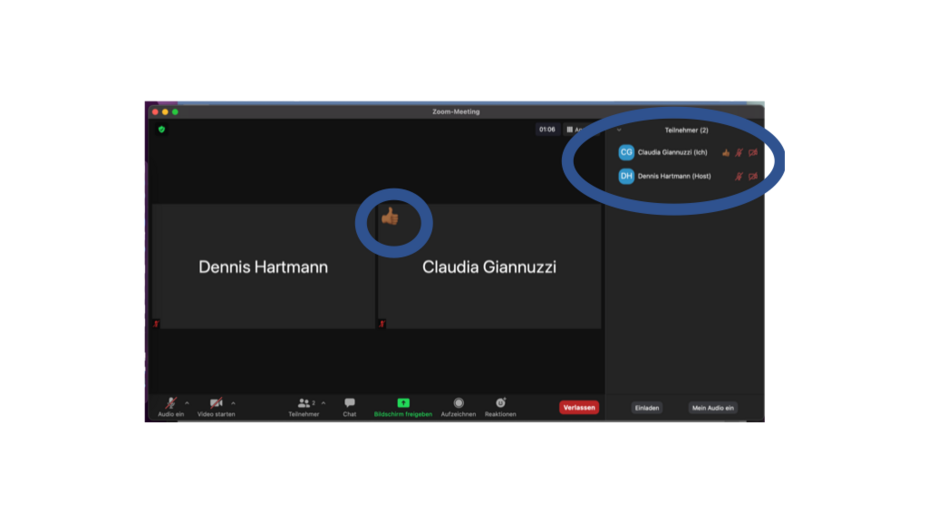 Zoom Briefing for participants
When you have called up the zoom link for the session, you end up in a waiting room. You will be let in at the beginning of the session.
Please log in to Zoom with your full name.
As a participant, you cannot be seen or heard from the start.
Would you like to ask a question? If you write this in the chat or at the request of the moderator, you will be activated by "3pc Tech Support".
Please note the zoom instructions in advance (see below).
Please note that all sessions are recorded.
There is a "3pc-Tech-Support" for technical questions about Zoom, which everyone can write to in the chat in case of technical problems.
For further discussions, please use our talk room. You will find the link for this in the chat towards the end of the session
Important instructions for Zoom.
General details for the Zoom-event
Please use the latest Zoom-client version (latest version is 5.4.9). The client-download for windows or mac is available via

https://zoom.us/download.

All versions starting from 5.4.6 are compatible regarding the function breakout-rooms.
A technical Zoom-host from 3pc coordinates from the background the going live of the Zoom-event, the entrance from the moderator, the speaker and the participants.
Participation on a Zoom-event
Please use the Zoom-client which has to be pre-installed on your device (Laptop, PC..).
Please use the designated Zoom-link for the event and notice that the entrance is possible 30 minutes before the official start of the event.
You will receive the Zoom-link via email or newsletter.
Please insert your full name and surname.
As you click on the Zoom-link you will enter a waiting room, our technical support "opens the event" a few minutes before the official start of the event.
If you participate the event as a moderator or speaker your camera and microphone are automatically active (our 3pc-tech-support takes care of it for you).
It is possible to change your name during or before the event. Click on the 3 point in the top right corner "Mehr" and click on "Umbenennen".
Additional information for the chat
To address questions or information to the moderation or speaker please use the Zoom-chat. You can type your message into the chat window and press Enter to send your message.
Click on the drop down next to "To" to change who you are sending this message to. As a panelist, you can send a message to all panelists, all participants and panelists, or an individual
Non-verbal feedback and reactions with emojis and symbols
- Participants can react visually with emojis and symbols
- Those reactions will appear silently in the video of the participant
- Increases the interaction of the participants
- Raise hand: non-verbal reaction without disturbing the speaker
- Thumb up: agreement, can speed up decisions
- More reaction available (as shown in the picture below)
Demos
Warming Up
Die Qurator-Partner stellen sich und ihre Workshop vor.