Curation Technologies for Interactive Storytelling
Lecture Armin Berger
As part of the QURATOR project, 3pc develops intelligent tools for interactive storytelling in order to assist editors, content curators, and publishers from cultural and scientific institutions, corporate communication divisions, and media agencies. These providers for storytelling face an increasing challenge to tell engaging stories built from vast amounts of data for a broad range of devices, including wearables, augmented and virtual reality systems, voice-based user interfaces – and whatever the future holds next. In this context, interactive storytelling is defined as new media formats and implementations that far exceed today's rather static websites. In his lecture, Armin Berger will give insights into the current state of research.
Asset management tool to enriche media
3pc is currently building an asset management tool that enables users to access media analysis algorithms in an intuitive and efficient way. Media analysis processes text, images, videos, and audio files in order to enrich them with additional information such as content description, sentiment or topic, which is usually a labor-intensive and therefore expensive process often neglected in busy publishing environments. Enriched media becomes machine-readable, allowing storytellers to find content faster and for new connections to be forged in order to create richer, interactive stories. Ultimately, a semantic storytelling machine becomes possible, generating semi-automatically unique and tailored stories, based entirely on users' preferences.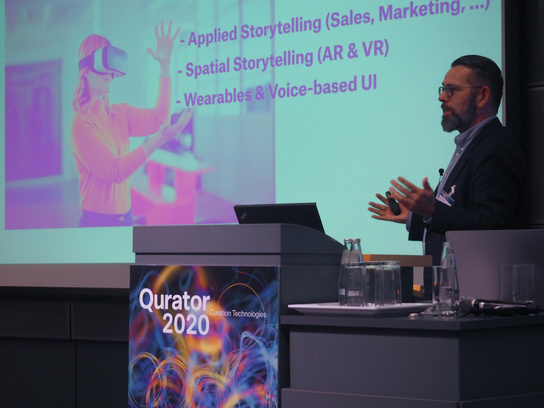 Armin Berger
Armin Berger is Managing Director of 3pc GmbH, which he founded in 1995. He has been an expert in digital transformation processes for more than 20 years and develops integrated digital strategies and UX solutions for communication-intensive projects with high journalistic demands - award-winning websites, apps or AR/VR and storytelling applications. 3pc is a partner of various renowned cultural institutions and advises them on digital communication.
As the alliance spokesman for the BMBF's QURATOR research project, Armin Berger, together with the German Research Center for Artificial Intelligence (DFKI) and others, is a driving force behind developments in the field of AI and digital curating. The focus is on the development of editorial tools and services as well as storytelling applications based on artificial intelligence.